WHAT's NEW
Managed Service Provider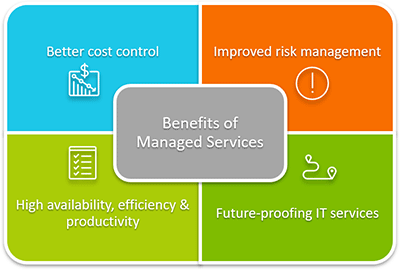 The goal of managed services is to provide businesses with a cost-effective and efficient way to manage their IT systems and reduce downtime, improve productivity, and increase the overall performance of their IT environment.
Remote Monitoring and Management (RMM) is a suite of tools that is commonly used in managed services to monitor and manage IT systems from a remote location. The advantage of RMM is that it enables managed service providers to proactively detect and resolve IT issues before they become critical, thereby reducing downtime and improving the overall performance and stability of the IT environment.
RMM tools provide a variety of features and benefits, including:
Real-time monitoring: RMM tools provide real-time visibility into the performance and status of IT systems, enabling managed service providers to quickly detect and resolve issues.


Automated alerts: RMM tools can automatically generate alerts when potential issues are detected, allowing managed service providers to respond quickly and resolve problems before they escalate.


Remote access: RMM tools allow managed service providers to remotely access and manage IT systems, reducing the need for on-site visits and saving time and resources.


Proactive maintenance: RMM tools can be configured to perform routine maintenance and updates, reducing the risk of IT issues and improving the overall performance and stability of the IT environment.
By using MSPs and their comprehensive RMM toolsets, businesses can reduce downtime, improve productivity, and increase the overall performance and stability of their IT environment.
Hybrid Work Solutions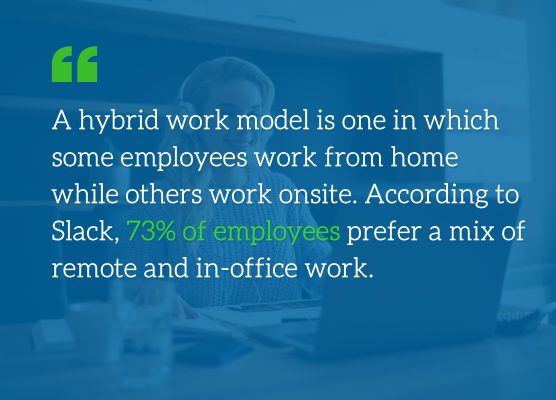 As the pandemic continues to subside and businesses begin to transition back to a more traditional work environment, SMB and SME businesses may need a variety of IT services to help them make the transition successfully. Some of the most common IT services that these businesses need include:
Network infrastructure upgrades: You may need to upgrade your network infrastructure to support a hybrid work environment, which may involve adding new hardware, updating software, or reconfiguring existing systems to accommodate remote workers.


Data backup and disaster recovery: With more employees working remotely, you may need to improve your data backup and disaster recovery strategies to ensure that your data is protected in case of a data loss or system failure.


Cybersecurity: You may need to increase your cybersecurity efforts to protect against potential threats, including hacking, phishing, and malware attacks. This may involve implementing additional security measures, such as firewalls, antivirus software, and employee training programs.


Cloud computing: Many businesses may need to transition from on-premise IT systems to cloud-based solutions to support a hybrid work environment. This may involve moving applications, data, and other IT resources to the cloud to make them accessible from anywhere with an internet connection.


Collaboration and communication tools: You may need to adopt new collaboration and communication tools to support remote workers and facilitate communication between remote and on-site employees. This may include tools such as video conferencing, instant messaging, and team collaboration platforms.


Mobile device management: You may need to implement mobile device management (MDM) solutions to help manage the growing number of mobile devices used by employees, including smartphones, tablets, and laptops. MDM solutions can help you secure and manage your mobile devices, enforce security policies, and track and monitor device usage.
By providing these IT services, small and medium-sized businesses can ensure that their technology infrastructure is ready for the new hybrid work environment, and that they have the tools and resources they need to remain productive and competitive in the post-pandemic world.
Work From Home !?
So, the pandemic is finally winding down. Companies have opened back up but has everyone returned to the office? Yes, no, maybe. It's a confusing time as many companies are in a state of flux. Some have returned to the office, some are still working at home and some are stuck inbetween.
From an IT perspective, aboslutes are always easier to work with. Everyone working remotely is one solution, everyone working from the office is another solution but when workers are in both states simultaneously, it's a whole different set of problems and solutions.
Hybrid access solutions take advantage of Cloud computing and next level security to provide a common and secure work exerience for all users, whether they're working from home, the office or the local coffee shop. Zero Trust Network Access (ZTNA) treats all uses and all devices as untrusted, inside or outside of your organizting and constantly applies security challenges to make sure all access is authorized by the right user on the right computer. AWS, Microsoft Azure, VMWare Cloud, Synology and others all allow for secured access to a common source of data.
From SMB to SME, we can assist your organiztion in providing secure and accessible data to all of your users no matter where they are located.
Let us know how we can help...